How to enable customer accounts on Shopify

Updated to reflect Shopify's new Customer Account settings released in 2023!
When you open a new Shopify store, customer accounts are hidden by default, which means you will need to enable them to give customers access. Making customer accounts available is a free and simple way to increase customer retention and reduce friction during checkout.
When a customer creates an account on your store, Shopify stores password-protected information about the customer including their order history and current order status. Your customers' details, such as address information, will then be auto-filled during checkout resulting in a more seamless checkout experience.
Watch our short video, or read the guide below to learn how to turn on customer accounts on your Shopify store.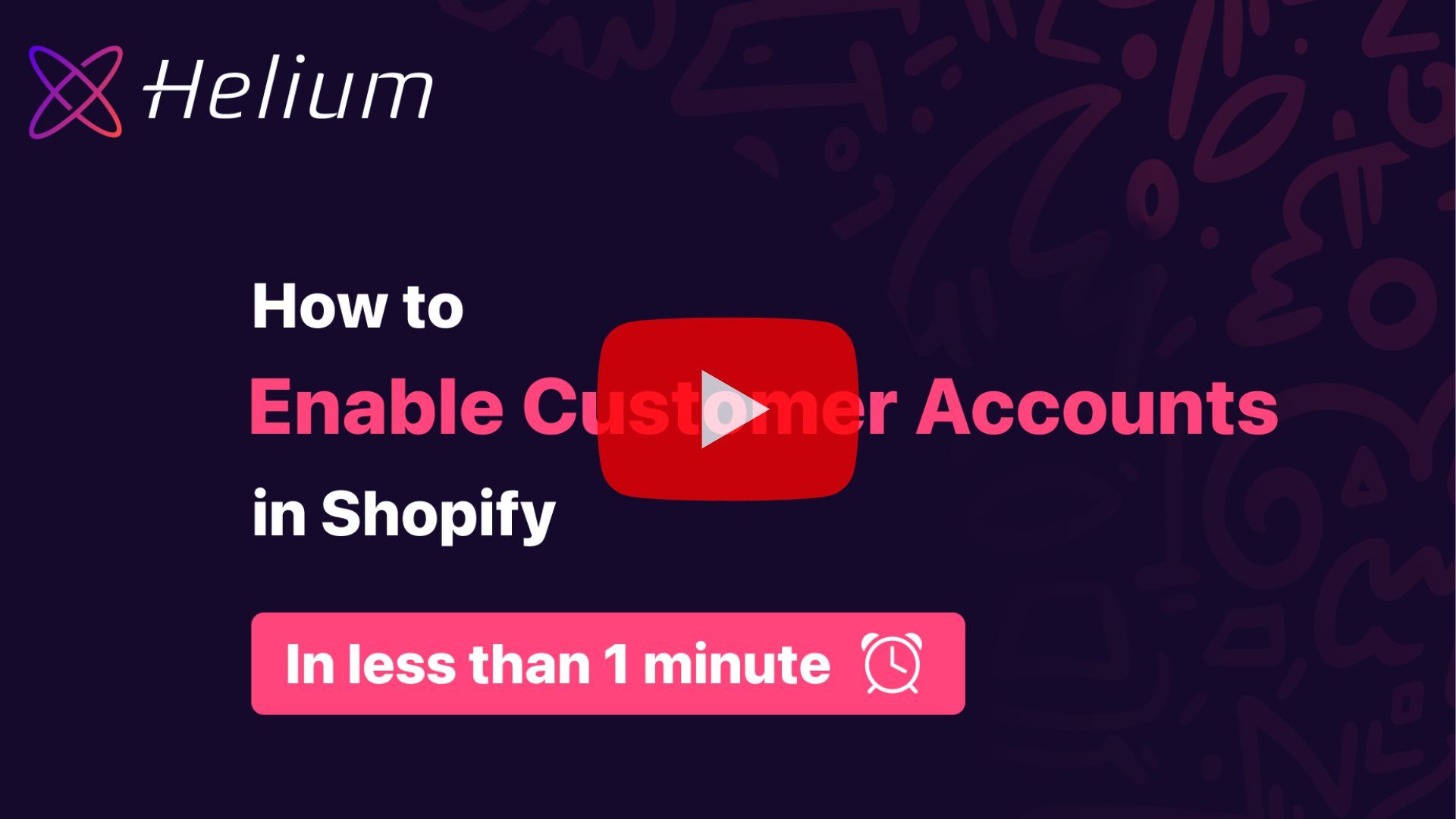 Allow access to customer accounts on your store
By default, customer accounts are hidden, which means if you're new to Shopify you will need to enable them. You can make customer accounts optional or required. When creating an account, customers are redirected to a separate account creation page, typically located at yourwebsite.com/account/register.
Follow these steps to enable customer accounts or edit account settings
1. Click here to open your store's customer account settings or navigate to Settings > Customer accounts from your Shopify admin.

2. In the section called Accounts in online store and checkout check the box for "Show login link in the header of online store and at checkout"
This is the easiest way to give customers access to creating an account. This will add a link to the account page to your site's header where customers will be able to log in or register. On many themes, including Shopify's Dawn theme, this will look like a person icon 👤. 
After checking this box, you will see new options for which version of customer accounts you would like to use.
3. Choose which version of customer accounts to use:
New customer accounts
This gives your customer a streamlined, passwordless experience, and allows for new Shopify features such as self-serve returns. However, new customer accounts also prevent you from customizing the page or using apps to enhance the customer experience.
Classic customer accounts (recommended)
This gives your customers a traditional login and registration experience, and also allows you to use apps and customizations to add functionality to your site and get to know your customers better.
Still not sure what's best for you? Check out our blog about the pros and cons of "new" customer accounts.
A note about required customer accounts
The setting to "require customer accounts" has been moved to Checkout settings. If you want to require all customers to login before checkout, from your Shopify admin, go to Settings > Checkout and select Require the customer to log in to their account before checkout from the Customer contact method section.
Requiring customer accounts should only be used in scenarios that require a barrier of entry, like selling to pre-approved wholesale customers, selling age-restricted products, or creating a members only store.
Get the customer data you need to sell more.
Customer Fields is a toolkit with everything you need to understand your customers and sell them products they'll love.
Start 14-day trial