Set up a Shopify B2B store without Shopify Plus
How to run a wholesale store on Shopify, without subscribing to Shopify Plus

Setting Up a Wholesale Store on Shopify without Shopify Plus: A Step-by-Step Guide
Are you wondering if it's possible to run both B2B and DTC operations seamlessly on the same Shopify store? Well, you're in for a treat. And you don't need to be a web developer or break the bank with Shopify Plus. Watch the video below, or keep reading. Let's get into it!
Watch our short video, or read the guide below to learn how to run a B2B store on Shopify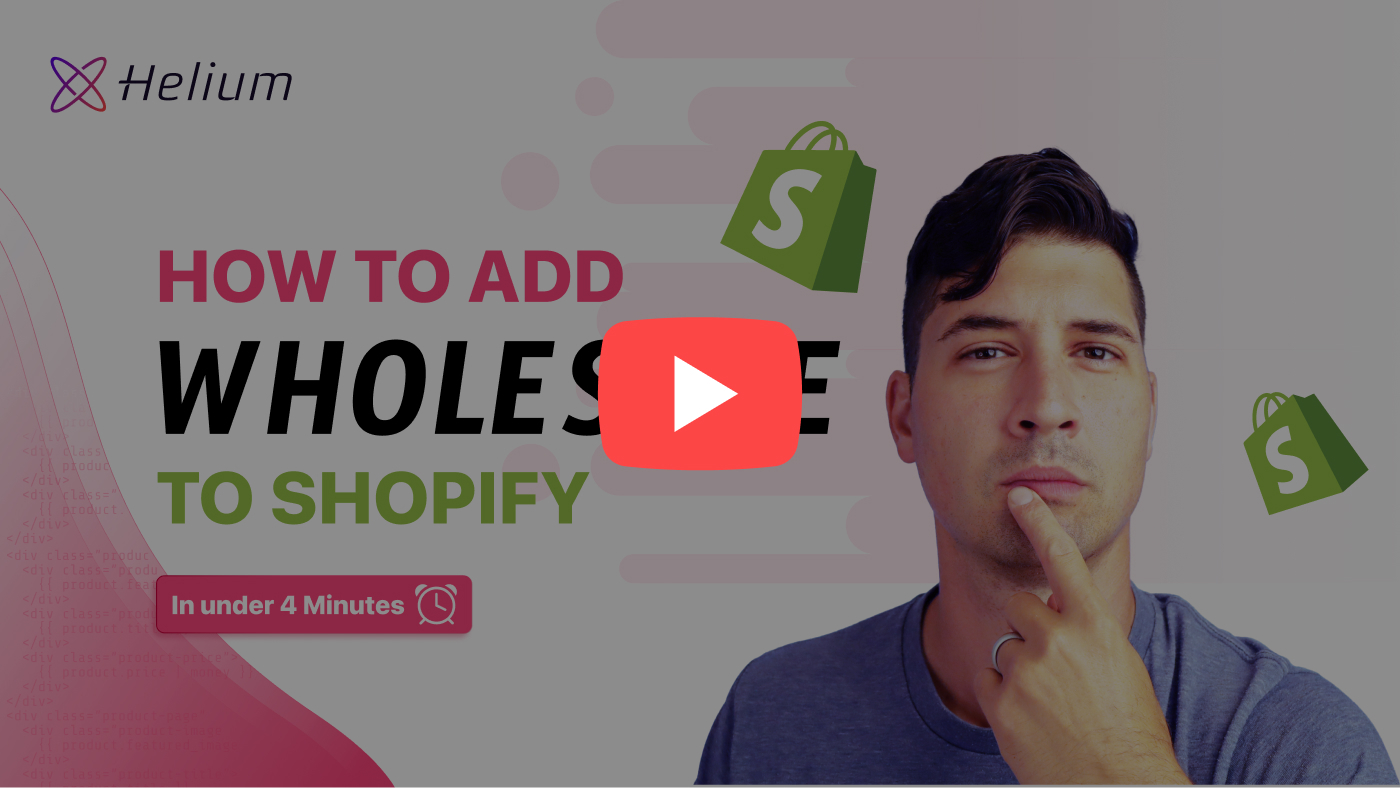 1. Enable Customer Accounts
Before diving deep, it's essential to ensure that potential wholesalers can create accounts on your store. If you're not sure how to do that, we have a handy tutorial just for you: How to Enable Customer Accounts in Shopify
2. Integrate SparkLayer
SparkLayer is your one-stop solution for establishing wholesale pricing, implementing minimum order quantities, and managing products. Here's a quick rundown on how to set it up:
Install the SparkLayer app and integrate it with your store.
Choose a suitable plan.
Initiate the onboarding process, add a new price list, and create a customer list to tag your wholesale customers.
Assign wholesale pricing to a particular customer group. A 20% discount could be a great start.
By default, Sparklayer uses the "b2b" customer tag for this assignment, which we'll dive into later.
3. SparkLayer's B2B Dawn Theme
For those who prefer a hassle-free setup, SparkLayer's B2B Dawn theme is a lifesaver. It effortlessly crafts a new theme embedded with SparkLayer widgets, eliminating the need for coding.
4. Wholesale Page & Navigation
To ensure your wholesalers can easily locate all they need:
Create a page template dedicated to your wholesale form.
Within the Shopify admin, create a new page and assign it the Wholesale template.
Once saved, you'll have the option to add this page to your store's main navigation.
5. Customer Fields for Registration
Customer Fields is about to be your best friend for the wholesale registration process. Its predefined template for Wholesale even offers areas for tax-exempt status proof and VAT or Tax ID number entries. When customers sign up, the custom data becomes visible in the app's directory and Shopify via Pinned Metafields. If you're utilizing the provided wholesale form template, there's an automatic rule in place that tags approved wholesale customers with "b2b". Rejected applications don't create customer records in Shopify. No muss, no fuss.
6. Wholesale Registration Integration
Now, it's time to integrate our wholesale registration into the dedicated Shopify page. Simply paste in your form's ID, save, and voila! You're set. For a more detailed walkthrough, check out our comprehensive help article.
7. Final Check with SparkLayer
Back in SparkLayer, ensure everything is functioning seamlessly. If you spot shirts with tracked inventory available for purchase at the 20% discount you set earlier, you're on the right track. Add a few items to your cart as a final test run.
Congratulations! You're now equipped with all the tools and knowledge to excel in the world of wholesale on Shopify. For more insights and helpful guides, don't forget to subscribe to Helium.
Get the customer data you need to sell more.
Customer Fields is a toolkit with everything you need to understand your customers and sell them products they'll love.
Start 14-day trial