More forms included on CF plans!

More value added to Customer Fields Plans
Helium is once again packing more value into our current plans! This time, we're increasing the number of forms available on each plan.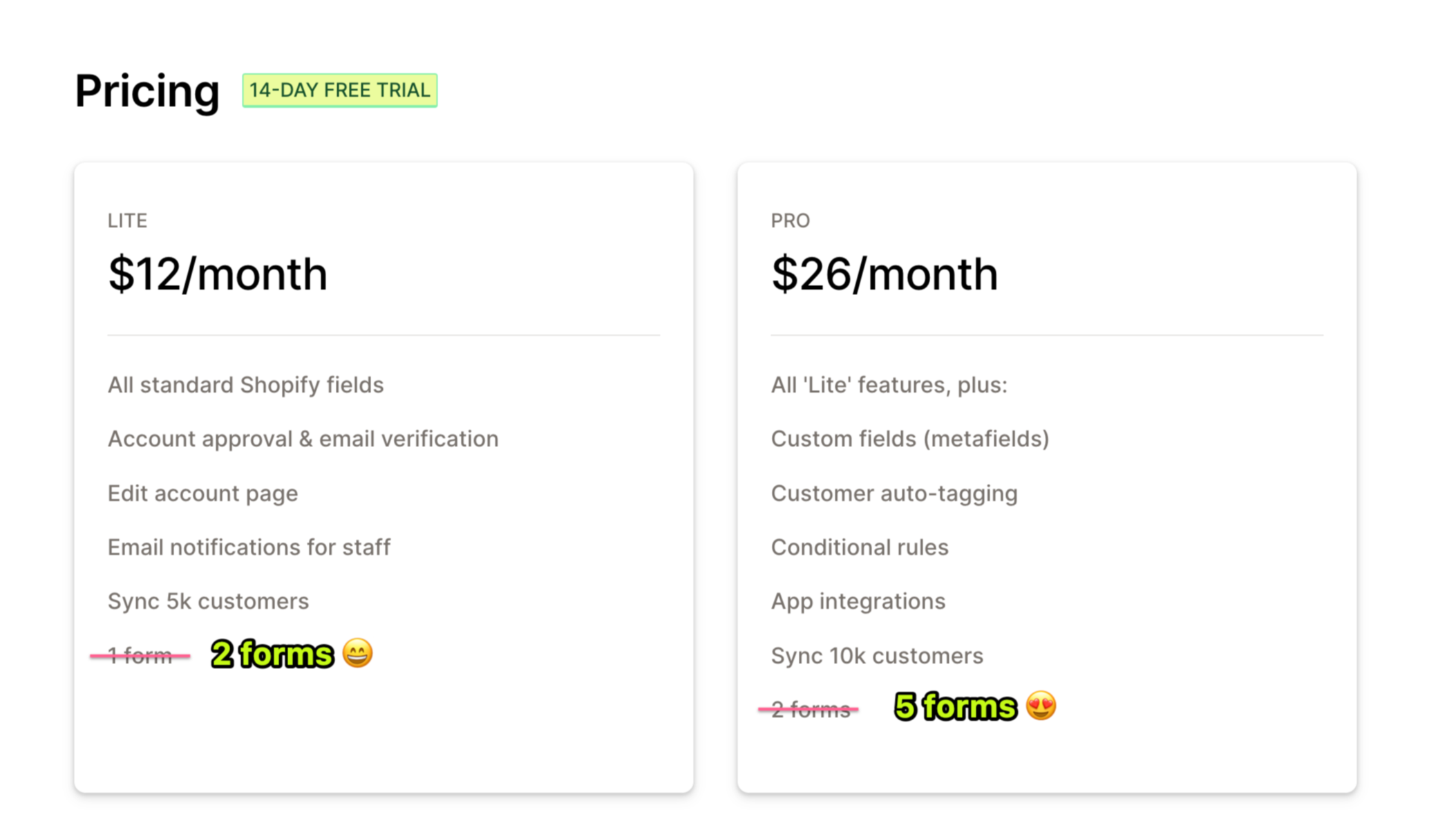 Lite Plan update:
You can now build 2 forms on the Lite plan (such as a registration form and an edit account form)
Pro Plan update:
You can now create up to 5 unique forms on the Pro plan, an increase from the previous limit of 2 forms.
Should I change my plan?
If you have upgraded to the Advanced plan in order to use 3-5 forms, you may be eligible to downgrade your plan to save on your subscription costs. You may also be eligible to downgrade to the Lite plan if you upgraded to the Pro plan to use 2 forms.
Keep in mind that if you choose to change your plan and are using other features that are exclusive to the Pro or Advanced plans, you will lose access to those features.
How can I update my plan?
You may click here to log into the Customer Fields app and manage your subscription and plan info. Otherwise, follow the steps below to change your plan.
Step 1: Log in to your Shopify admin
Log in to your Shopify store. Once you are logged in, navigate to the Apps tab link on the left-hand column of your store (it will be the last link in the column before Sales Channels). 
Step 2: Log in to the Customer Fields app
If you have an account with us, it will automatically log you in from your Shopify admin.
Step 3: Change your plan
While you're logged in, the easiest way to get to the list of plans is by clicking HERE. You will see the available plans based on your account information and usage.
New to Customer Fields?
Get the data you need to know your customers, and sell them products they'll love.
Get started for free