5 Common Mistakes Shopify Merchants Make When Installing or Uninstalling Apps

Looking for apps that will boost your business? Avoid these frequent oh-no-nos.
1. Not reading the app listing
Shopify apps come in all shapes and sizes. While Shopify does test every app before allowing them onto the app store, you will still run into varying degrees of quality. 
So it's always wisest to do your homework upfront. We suggest taking a deep look at the app's listing page and checking for these 3 things:
Know your "Must-Have" features

Don't turn your store into an App-Frankenstein. Cherry-picking features from similar apps creates a confusing workflow for you and poor site performance or broken pages. Start your search by getting a general understanding of what the apps in your desired category offer and find one that lines up closest to your needs. 
Don't turn your store into an App-Frankenstein. Cherry-picking features from similar apps creates a confusing workflow for you and poor site performance for your shoppers.
Review the Reviews

It's always helpful to hear someone else's experience with an app. Reading reviews can be a great way to understand if the app is intuitive and effective. Use reviews to see how well the developer supports their app. Do they have a dedicated support team that people found helpful or will it be a ghost-town once you install the app? Does the app contain code that is hard to get rid of even after uninstall that other customers found frustrating? Did it make changes to someone's site that wasn't expected? Learn from other merchants' victories or bad experiences. 

Make the most of a free trial

We all love free stuff. Too often, though, we sign up for a free 10 or 14-day trial and not put it to good use. Carve out time in your schedule to walk through a full testing of the features you hope to use. See how responsive the developer is to customer support requests. See if it has any adverse effects on your store's performance or if it doesn't play well with other apps. Don't let the clock run out on a free trial without being well informed on if the app will or won't meet your needs. 
2. Installing an app directly to your live theme before testing
When trying out a new app, never install it directly to your live theme. Create a duplicate theme before installing the app, and test it on the duplicate theme. Doing this ensures that your customer's purchasing experience is not interrupted by an app that hasn't been set up yet or is broken. 
Creating theme duplicates also helps you compare two similar apps and see how they work within your shop's ecosystem. When testing multiple apps, you may find one app plays better with your other installed apps. 
With Helium apps, you always get to choose which theme you would like to install on. This isn't the case with many other apps so please exercise caution. Some apps will inject code into your live theme as soon as you hit the 'install' button. This is just one-way Helium is setting higher standards for app developers within the Shopify ecosystem.
3. Not Reviewing the App Permissions page
Shopify includes an app permission page when you start installing a new app. In the image below you can see our app, Meteor Mega Menus, and what permissions you would be allowing it to have on your website.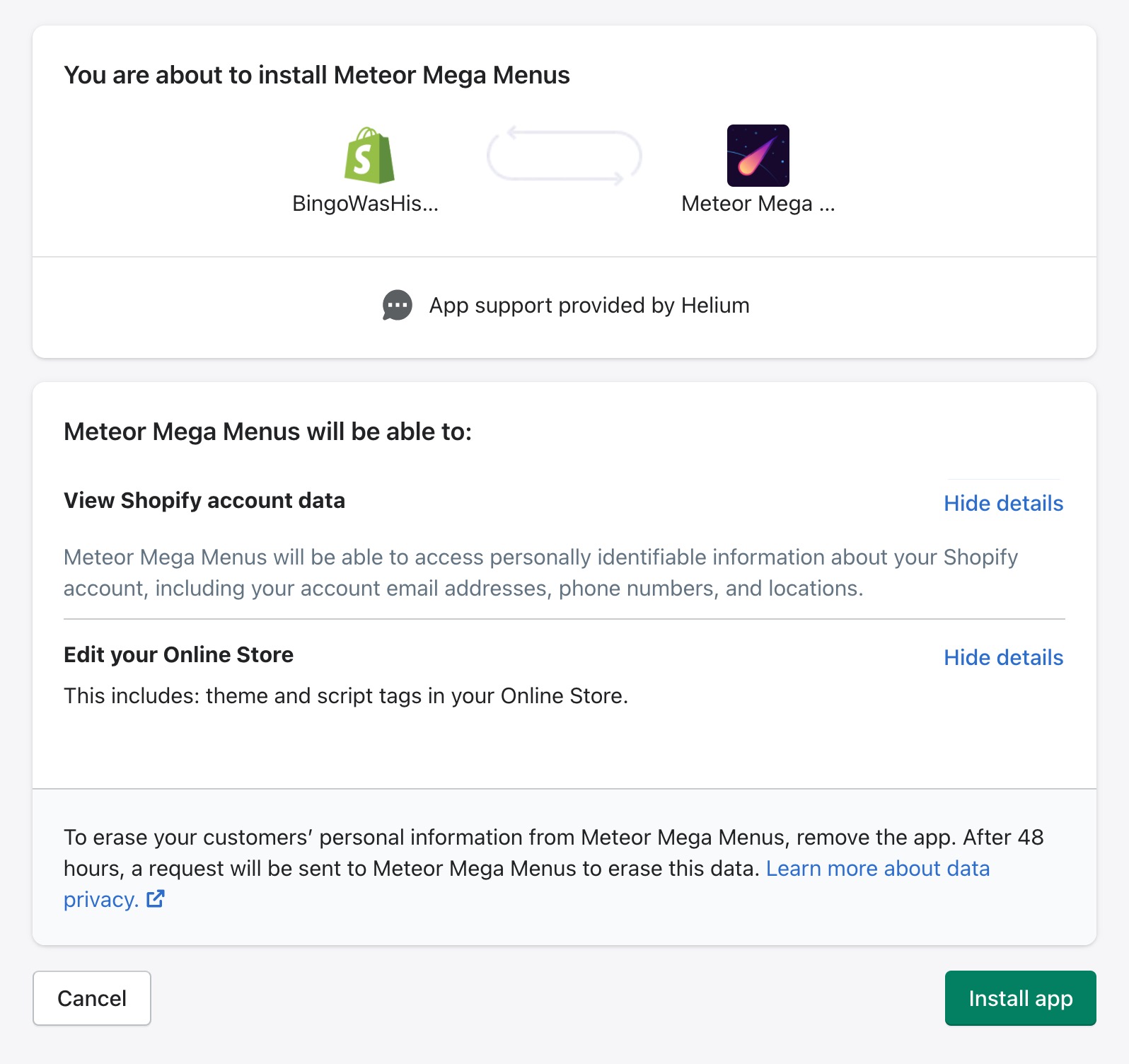 This App Permissions page is often overlooked but can prove very valuable. If you're installing an app that shouldn't need to request account data or make script tag edits to your store but is, that's a red flag. 
If something's fishy and you're still on the App Permissions page there's still time to hit cancel! That app will not gain access to your store.
4. Installing two apps that do the same thing 
Doubling up on any kind of app could break that part of your store. 
This may seem obvious, but it happens a lot. For example, maybe you download a mega menu app, then find a second mega menu app that you prefer the design of more. If you have them both installed these apps will compete to embed their lines of code into the same spots and will break your menus. 
5. Uninstalling an app without removing its code
This gets a bit technical, but some developers build apps that stay entirely self-contained. So when you uninstall the app, all of its code gets removed from your store. Other apps write themselves directly into your store's theme, making it harder to remove completely. Both ways of creating apps have their advantages, but if you find you're using an app that affects your theme, there's a good chance it lives in your theme's code and will have bits of code left in your theme after uninstall.
Before uninstalling an app like this, check the app's landing page in your store admin and see if they offer an uninstall tool. If they don't, contact their customer support team or visit their website to see if they've created a guide on how to clear out all of the app's code. 
Using apps effectively can launch your business into major growth. Avoid these five pitfalls and reach out if you need help.
Get the customer data you need to sell more.
Customer Fields is a toolkit with everything you need to understand your customers and sell them products they'll love.
Start 14-day trial