Meteor Mega Menus for Shopify

Beautiful, seamless, and simple mega menus for Shopify
Meteor was developed by Helium, a team of Shopify Experts specializing in app & theme development (and creators of Shopify apps Customer Fields & Relatable). Meteor Mega Menus features a one-click install, 5 easily customizable menu templates, and uses Shopify's native navigation as well as Shopify's Polaris design framework.
It was the first Mega Menu Shopify app available on the app store–initially released under the name "Bacon Mega Menus" back in 2015. Since Meteor's inception we have made the UI increasingly user-friendly as well as support for virtually any Shopify theme. Meteor also comes out of the box with a wide range of menu styles to choose from all with a low monthly price.
Why choose Meteor?
Meteor was designed to meet the need of Shopify merchants who were looking for more robust ways to feature their products or catalogs on their Shopify storefronts. We saw this as an opportunity to offer a better system for mega menus than what most themes offer. Using Meteor, merchants not only have the ability to create sub-navigation items, but merchants now have the opportunity to customize the designs of the menus to fit within their theme and dial in the menus to their preference.
By using Shopify's native navigation menus to display links in our menus, it allows us to load the menus lightning fast on the front end. This also minimizes excessive data entry in the store admin panel, allowing merchants more time to focus on building their store.
Explore the beautiful menu templates for yourself on our demo stores.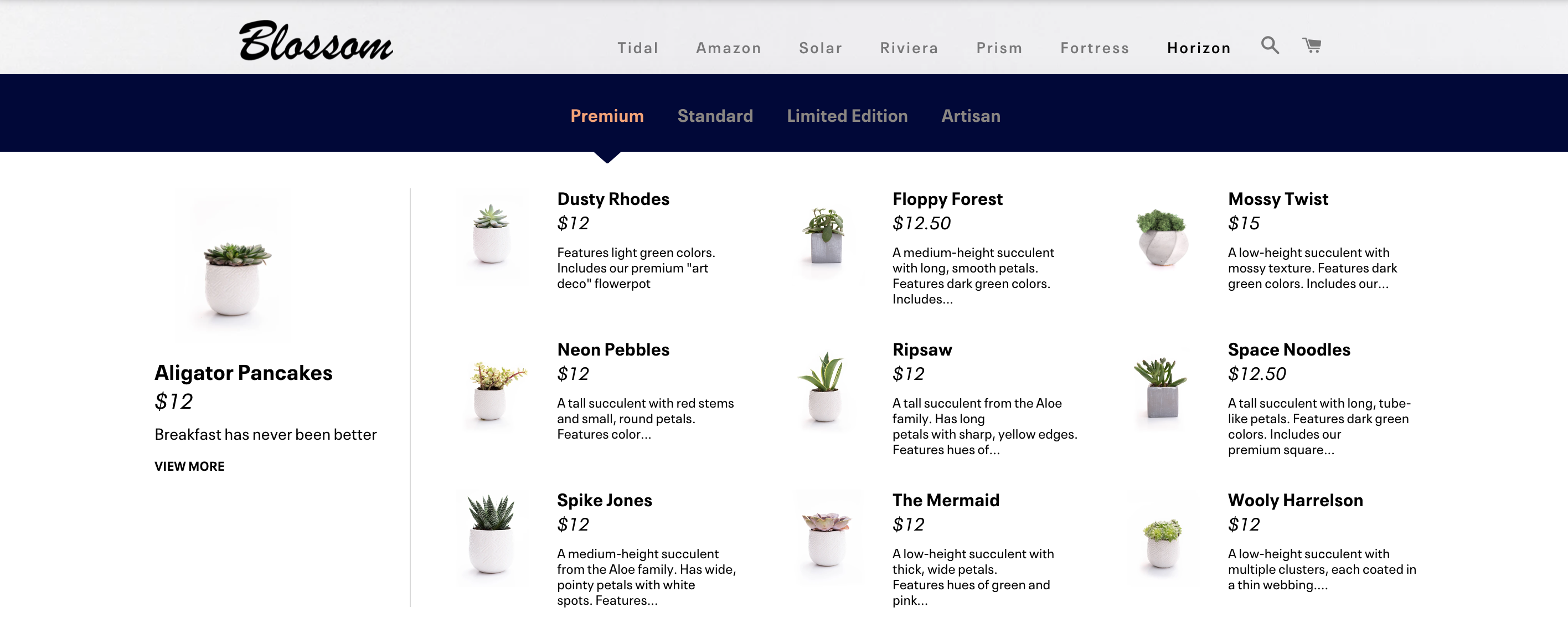 We've built 3 unique demo stores with different themes so you can see the templates in various themes and styles. Go to demo stores.
Meteor Menu Templates
Meteor comes with 5 desktop menu styles (or templates) that you can switch out at any time. Each template also has customizable settings so you can fine tune the styles to fit your store's design.
Riviera:
This template is designed to feature robust sub-navigations with image support for each item. This is a great option to use for catalogs that you want to show off specific product images.
Solar:
This mega menu option is great for catalogs with more than a few sub-categories. This helps keep customers on the right track if your collections if your collections are a bit more diverse than others.
Fortress:
A reliable option for large inventories. This is a great template for showcasing a collection of products with an image that may be associated with these collections.
Tidal:
This is a great template for less complex catalogs, and getting a lot of products in front of your customers. This template is really organized, minimal and also has an adjustable size and layout so you can optimize the how it looks to best suit your needs while keeping things simple.
Prism:
This template is especially useful for creating simple, beautiful menus. Prism is best known for its image features, which are fully customizable in the app. You can curate the size, fit and layout of the images to uniquely match your store. Pictures are worth a thousand words, so use Prism to showcase your amazing products with stunning product photography.
"But wait, there's more…"
Meteor now comes with 3 new templates, which you can preview on our demo stores.
Mobile:
Meteor Mega Menus also has a default template for mobile. The mobile menu is agnostic of your theme's normal mobile menu and requires little to no extra configuration, and offers simple customization options to retain consistency with your brand's styles.
Shopify Stores Using Meteor Mega Menus
Meteor is used by thousands of Shopify merchants and we believe that you'll find an option that is the best choice for your store. Here are a couple shops actively using Meteor:
Beautiful menus in minutes
Put your products on full display and revitalize your Shopify store in minutes with Meteor Mega Menus.
Start 14-day trial