How to edit the password page on Shopify
Learn how to edit the password page on Shopify to set your store up for success prior to launch.

How to edit the password page on Shopify
Did you know that you can edit your Shopify password page (aka: coming soon page) without touching a single line of code?
All Shopify stores are password protected by default, and depending on the theme, the page shown can be pretty bland. By editing this page, you can communicate announcements, advertise products, and even collect customer registrations, all before the store even opens. 
This guide is designed for newer Shopify OS 2.0 themes that are compatible with app blocks. Need one? Check out Shopify's free themes (each of these themes supports customization of the password page).
There's a lot you can do on the password page, but to keep it simple, we'll simply show you how to access the password page template and add a form for customer registration. This is a huge value add for shops to capture data from customers who visit your site before it launches, and it's what we're all about here at Helium with our Customer Fields app.
Follow these steps to edit your store's password page
The process is simple: in your theme editor, navigate to the 'Password' page template, and add whatever page sections you want. That's all there is to it!
In your Shopify admin, find Sales channels > Online Store and click the Customize button
Use the dropdown selection at the top of the page to search for and select Password, which takes you to the template for the password page.
Customize this page as much as you want! We recommend using the Customer Fields app to create a custom registration form to replace the standard email capture field, but you can also add or delete other sections to make this page unique, memorable, and useful. If you want to learn more about adding a custom registration form to your password page, check out this guided tutorial.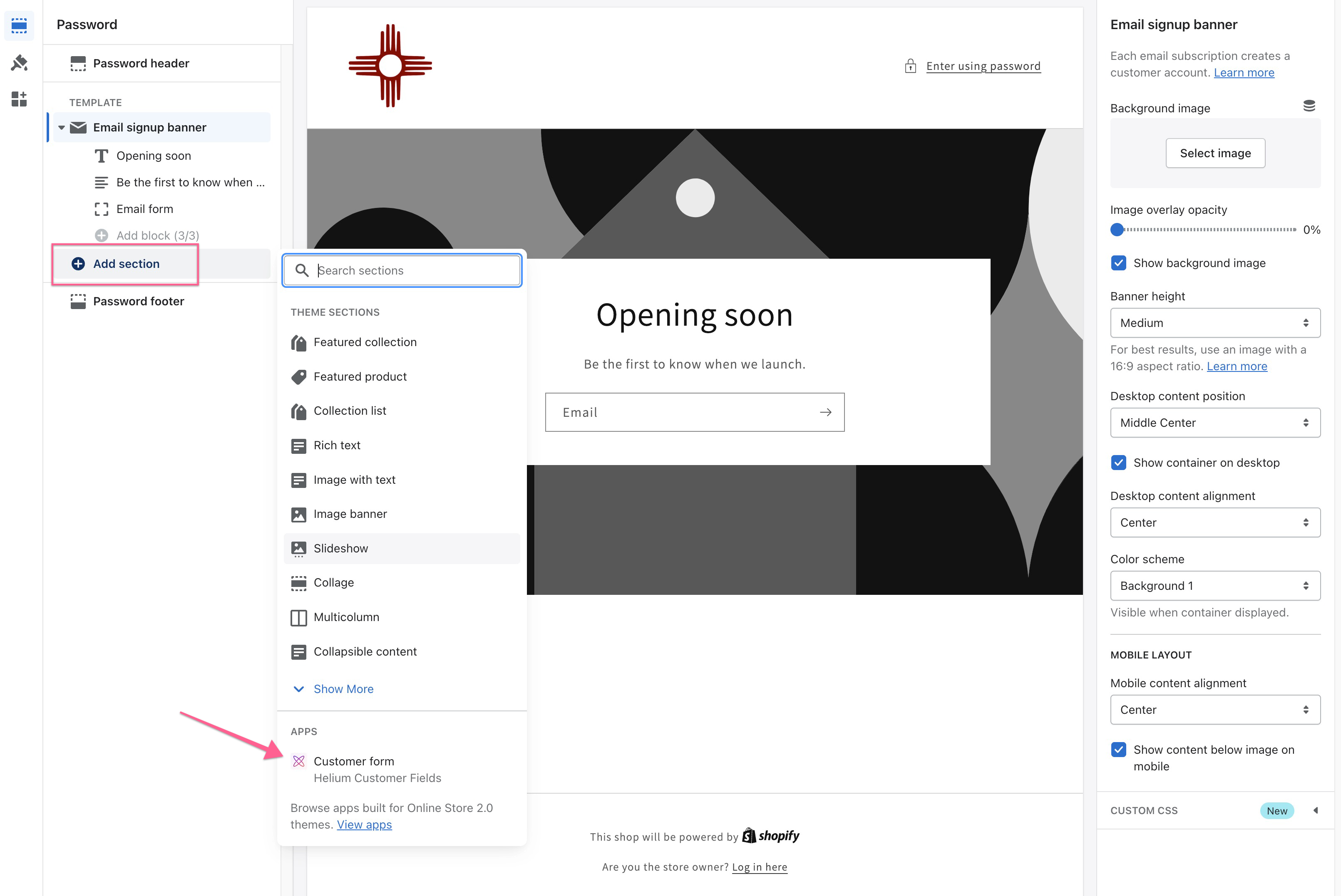 Run a sweepstakes or contest on your password page
Offering a pre-launch giveaway on your password page is a great way to incentivize customers to sign up for an account prior to launching your store, and generate some buzz about your brand.
Our recipe is simple: use Customer Fields to create a custom sweepstakes entry form and create an account on your store at the same time.
Note: This guide is meant for non-dev stores only. Any new dev stores created through the Shopify Partners dashboard have a special type of password protection page that cannot be edited or disabled. However, if you'd like to test this process, you can still redesign this template and visit yourdomain.myshopify.com/password to see the result.
Get the customer data you need to sell more.
Customer Fields is a toolkit with everything you need to understand your customers and sell them products they'll love.
Start 14-day trial