Create unique Shopify registration forms on different pages
You can use Customer Fields to collect additional information from certain customer types during registration (members, wholesalers, special users, etc.) while allowing regular customers to create an account using Shopify's standard registration form.
Note: Start your 14-day free trial today, and our support team can help you set up a separate form on your behalf at no cost to you.😎
Customize your registration form
First off, use Customer Field's drag-and-drop form builder to add fields relevant to your special customer segment. You can add one or two simple fields (such as customer's birthday or zip code) or build out a multi-step form to gather more in-depth information about your customers.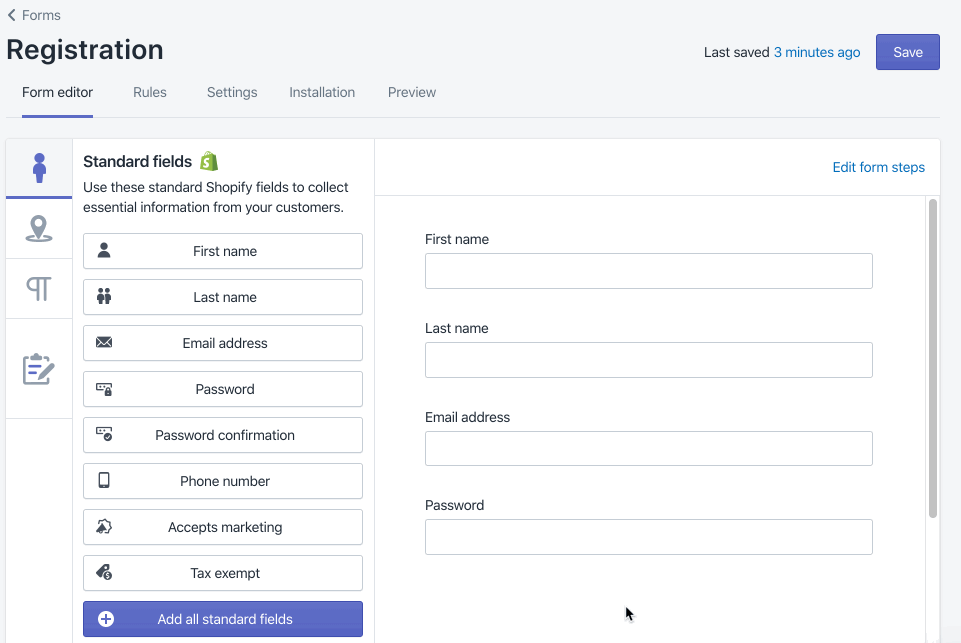 Add a new page template
Using Customer Field's easy-to-use form installation tool, you can select the 'Separate page' install location, and the app will automatically create a unique page template in your store's theme. This page template will be available in the Shopify admin when creating and editing pages.
Display your new form on a Page
Go to the Pages section of the Shopify admin (Online Store > Pages)
Add a new page, or edit one of your store's existing pages
Look for the Template panel on the right-hand side of your screen. Use the Template suffix dropdown to select the page template for the desired form:  
Rinse and repeat
The Customer Fields app uses the unique form id ("o3JtdV" in the example above) for the page template, which allows you to create as many unique forms as you need to segment your customers and run your business without extra hassle!
After saving the changes to the page in the Shopify, go ahead and view the page on the storefront to confirm if the app's form is showing. If the registration form is showing then you've done things correctly! Feel free to test the form by creating an account to ensure things are working as expected 👍